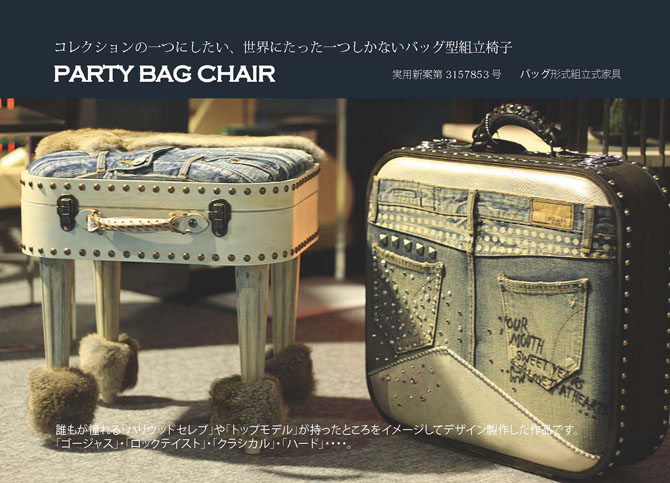 PARTY BAG CHAIR HISTORY
THE PARTY BAG CHAIR is my masterpiece.
It looks just like a bag but is also a piece of art that becomes a chair.
Making things that make people smile is the best part of what I do.
I used to work for a designer office, working on the computer till late night and was quite happy, but really wanted more time with my family and my pet dog.
One day I was passing an interior design shop, saw a box. An idea came into my mind.
As soon as I returned home I started designing the image. From there I expanded my idea to other designs.
The party bag chair is to display as a piece of art and to surprise guests at the owner's home.
My enthusiasm for this project never stopped, finally going to a furniture school teacher to discuss my design.
From there I started manufacture, sketching, using manufacturing machines (I never used before!), carving wood and started looking for materials for the products.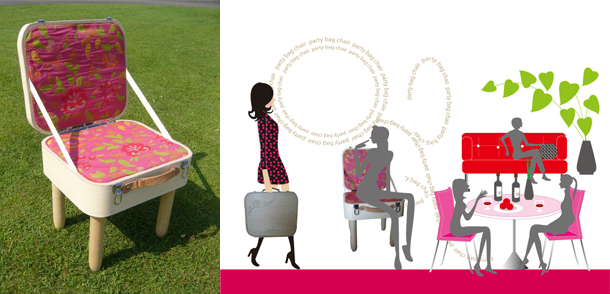 I was finally able to assemble a fantastic chair, using a material for a cushion part which was hand sewn.
I could not find a suitable handle, so had to also manufacture with leather and tools by hand.
When this chair was made, I felt total happiness and a satisfaction that is hard to describe.
I displayed THE PARTY BAG CHAIR at a school exhibition and had fantastic comments and encouragement from on lookers.
Initially I wanted to produce this chair for myself, but then felt that other will want this style of chair also. I then decided to manufacture this style in volume.


One half and year later I made a new piece that does not have a back rest and is lighter weight. I exhibited this new party bag chair at the Tokyo designer's week, as a group display. There were many people interested in my piece,I started to search for a furniture store and visit several workshops but my ideas had been turned down due to my items being unprecedented. When I consulted my acquaintance, he introduced me to this company president who loved furniture. This company, Shimizu Industrial Arts Inc., which has manufactured furniture for top brands from home and abroad, has been producing my items.  
This company was happy to offer consultation on structure and design of my items. After number of times of discussions, it took nearly one year to commercialize my items. They are willing to reproduce according to my detailed requests in a few millimeters, and my items turn out to be more than I have expected in terms of my design. It's also very encouraging that they have craftsmen who specialize in paint application and sewing so that I could request them to work on my items at ease according to my own image.  With a great deal of help from many people, my items have been produced in a careful manner.
My design expresses a very creative style with the mixture of gorgeous, tough, rock 'n' roll and classical tastes with images of heartthrob Hollywood celebrities and top models carrying my item.
It's my wish to make you feel special like you are the leading role of a movie or a magazine, whenever you look at "PARTY BAG CHAIR."
I recommend my items to those who enjoy entertaining people, like one-of-a-kind and hard to find highly stylish item, and lead a conscious lifestyle (grin).
What motivated me was my wish to value spending time with my family, friends and my dog Moco.
I have just packed my feelings into my bag so that people could spend happier time with their precious someone with my item.
With my originality-oriented design, I'd like to bring out more smile on people's faces throughout the world.
My decision to work for myself has let me spend more time with my pet dog Moco and I would like to have a happy life with my interior art work.
Thank you very much for reading the history and the story of the evolvement of my PARTY BAG CHAIR.
In the meantime, I will collaborate with many artists from a variety of fields and make people smile.
I appreciate your reading through of my story to the end.
Keiko Kano
The craftsmanship passing on Japanese traditional technique and highly incorporating ideas for better quality
"PARTY BAG CHAIR" has been manufactured by and through collaboration of Shimizu Industrial Arts Inc., which has produced furniture for top brands from home and abroad.
Carefully selected materials and sewing for leather parts of the handle and belt are handcrafted one by one by a skilled craftsman.
As for painting application, I request color samples and witness the actual painting process. I further request adjustment of the polish and fading of colors.
With the help of many specialized craftsmen, each item has been produced carefully and wholeheartedly.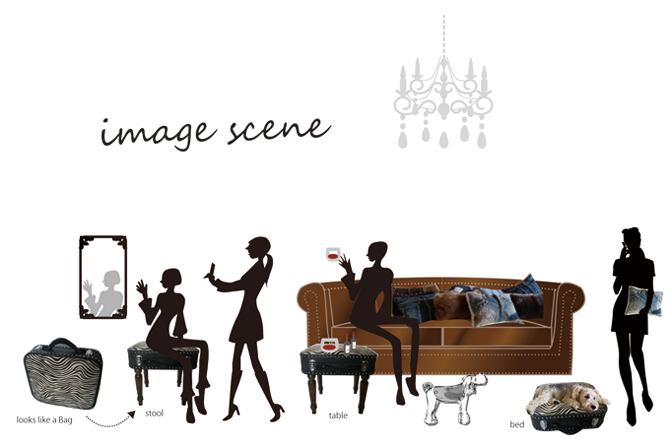 HOW TO ORDER
◆ Party Bag Chair【※Currently stool type is only accepted】is made-to-order.
◆  Delivery time
From 1 month to 2 months upon consultation and order
(Please note that this is a rough indication : delivery time may vary according to season.)
◆ Seat
Denim and leather decoration, and fabric for chair from the manufacturer, and others could be requested by e-mail.
◆  Retail price (varies according to specifications)
\360,000 (tax excluded)
An estimate can be given according to fabric and with or without studs.
(Example : Denim, Swarovski without studs, designed decoration)
*Shipping charges would be added separately.
◆Each item is handcrafted carefully by a furniture craftsman and a leather craftsman respectively and thus becomes "one and only in the world."  Please look forward to the completion of the item.
◆Please inquire about consignment sale and distributing agent for details.
Items can be rent out to coordinators for photo shooting. Please feel free to inquire.
– Should you have any inquires, please contact us as below.
Email: office@grace-lifedesign.com
– We accept PayPal payments.
– It costs over 360,000yen, excluded postage/shipping and handling/packing, tax.
– It takes two months for making the items.